"

Sometimes you want to give up the guitar, you'll hate the guitar. But if you stick with it, you're gonna be rewarded."
Study guitar with a professional!
Jamie Murrell has over 18 years experience teaching guitar full time.
Jamie has been playing guitar since 1979. During the time that he has played guitar, Jamie has studied every style of guitar playing - Rock, Blues, Jazz, Country, Classical, Folk, Finger-style, Pick-style, on both Electric & Acoustic Guitar. Jamie also has a thorough knowledge of composition, arrangement, & music theory.
Jamie has a Specialist Certificate in Advanced Guitar from The Berklee College of Music and has a Bachelor of Music in Jazz Studies from Central State University where he also took many classes in Music, Guitar, Music Theory, & Music Education. 
Jamie customizes lessons to met each student individual needs & goals. The lessons are designed to take into account each students individual skill level/abilities & taste in music. 
Let Jamie use his experience as a teacher & guitarist to help you to learn to play guitar!
"The lessons are about the student - not me"  - Jamie Murrell
Feel free to contact Jamie about lessons in the forum below or at;
Email: guitarlessons.jamie@gmail.com,
Phone: (937) 760-1716  
Contact me directly for lessons!
Lesson Examples
Here are some examples of print-outs from guitar lessons -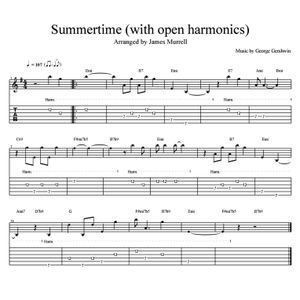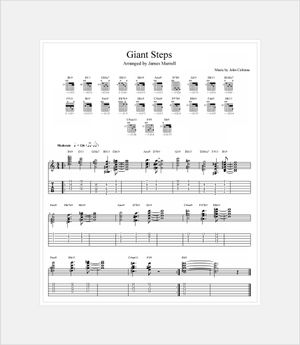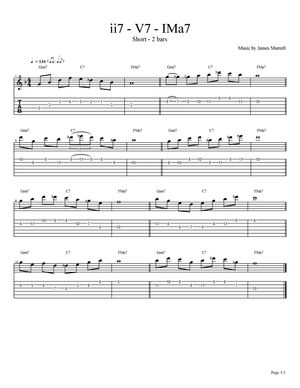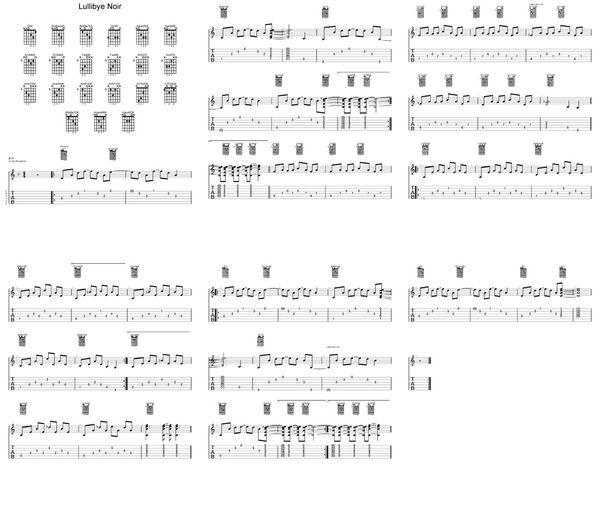 Testimonies From Students
Guitar
Christopher D. on February 21, 2016

Jamie is both an excellent teacher, guitar player, and human being. Not only is he deeply invested in your musical growth, but he also brings to the table a wonderfully diverse skill set. Jamie is more than capable of teaching his students all elements and styles of the guitar. I would highly recommend his guitar lessons.


Guitar
Vijai T. on February 19, 2016

Friendly, patient, flexible! Jamie has always been excellent and understanding. Both my boys loved his guitar classes.The songs you learn are fun and interesting. A great class for all levels of learning, very patient and is willing to teach what you want to learn. Jamie is genuinely invested in all of his students and provides an environment where you feel like you can be proud of any little progress. I highly recommend!


Guitar
Andrew S. on February 18, 2016

I first started taking lessons from Jamie when I was about thirteen years old. Back then, despite years of piano lessons, I had a very limited concept of what music actually was and how notes related to one another. Jamie helped me learn these things through years of gentle and laid-back instruction. If I didn't prepare an assigned piece in time for my lesson, I just worked on it for the next. I never felt pressured by Jamie. He only worked to light a fire in me with his intricate and sophisticate style. Additionally, he broadened my musical horizons with his love of jazz, teaching me pieces by the likes of Thelonious Monk and Charlie Christian. One of the best things about James as a teacher is that he really lets you learn at your own pace. He never makes you feel bad for not grasping something right away or forgetting a key element in execution or theory. However, I think the absolute best thing about him, both as a teacher and a person, is his true love for what he does. Jamie is always writing and composing and performing his own music with more care, more gusto, and more passion than anyone I have ever seen when it comes to music. More than anything else, Jamie's intense love of music is what inspired me from the beginning. He's the one who helped me through my earliest public performances. He's the reason I understand and can communicate through music as well as I do now. He's the reason I'm still playing today.


Guitar
Logan B. on February 18, 2016

Jamie was my first guitar teacher and in hindsight played a huge role in my life by exposing me to jazz music. I was in 7th grade wanting to learn Jimi Hendrix & Pearl Jam when he slipped Thelonious Monk's "Straight No Chaser" into the lesson. I didn't automatically fall in love with jazz music but the seed was planted. Fast forward 3-4 years, I had fallen in love with jazz music and started to really dig in and study. Unfortunately it's a unique case when the student is just excited about learning as the teacher is about teaching and vice versa. Fortunately for me, Jamie is the kind of teacher whose passion and excitement for sharing and teaching music matched my desire to learn. He went above and beyond what any standard guitar teacher would do; sharing books, setting up jam sessions with other musicians so I could get experience playing with other people, taking me on gigs to get experience playing in public, introducing me to other musicians in the area, etc.   Eventually other interests took over and I didn't make a career out of music. It's still a part of my life and I've learned 5 other instruments out of curiosity. More importantly, the time I spent studying (jazz) music with Jamie still influences my style and work today.
    

Guitar
Thomas R. on February 17, 2016

He was my first guitar instructor and introduced me to a variety of genres. Still today, 6 years after my last lesson with him (I moved to another state), I enjoy playing everything from jazz to rock. His expertise will benefit a guitarist of any skill level.


Guitar
Noah W. on February 17, 2016

I took lessons from Jamie for almost 5 years. I've been playing for almost ten now and I can definitely say that I wouldn't still be playing if he hadn't taught me. He's very patient and has a large amount of knowledge on music. He will use the type of music you're interested in to help you learn and grow as a musician. Awesome teacher! 


Guitar
Bobby D. on February 17, 2016

I had a wonderful experience taking lessons from Jamie for almost 4 years. He does an incredible job of catering to an individual student's tastes- he incorporates the tedious necessities of technique by teaching songs that allow the student to have a great time while learning them. What I took the most from him as a student was that he inspired me to be more open to learning other genres. He's a great teacher whether you're a beginner or already a skilled guitarist. 


Guitar
Leslie W. on February 17, 2016

Jamie was a phenomenal guitar instructor for the 2 years I had lessons with him. He opened my eyes to so many different musical styles and influenced my playing greatly. I would highly recommend Jamie to anyone looking to learn guitar or wanting to expand on what they already know. 


Guitar
Spencer C. on February 17, 2016

Jamie was my first guitar instructor; he always found a way to broaden my musical horizons while continually revisiting my passion, classic rock. From starting me with Day Tripper to introducing me to the wonderful world of jazz and all the way into music theory, Jamie made me into the guitarist I am today. I would recommend Jamie to people of all ages, styles, and skill levels.


Guitar
Evan F. on February 17, 2016

Jamie was my guitar teacher from 2006-2009. His lessons were engaging and challenging, and he influenced me to see the guitar as an instrument of many facets and possibilities. He introduced me to music I was not familiar with, and have since come to love. He provided me with the tools I needed to become a successful musician by bringing me along on gigs and performances. I have since completed both a bachelors degree (CCM) and a masters degree (Peabody Conservatory) in guitar performance, and I credit Jamie as a large influence in my decision to follow my dream of becoming a professional musician. He is a unique and valuable teacher and mentor, and I would recommend him to anyone who wants quality guitar lessons.


Guitar
Joyce M. on February 16, 2016

Jamie started teaching my son Leslie when he was in 2nd grade which proves that Jamie can work with student of all ages :)
Jamie is an excellent teacher!! He not only took interest in teaching well but also guided and provided ample oppurtunities for recitals and shows which helped build confidence in students!! 
Guitar Lessons @ Hauer Music
Follow Me At These Links!